THE PUTANGE MOLE TRAP
The putange is probably the most versatile tool in the mole trappers armoury.

They've been used in France for centuries unchanged due To their simplistic and foolproof design.

They slide up into the tunnel so they're out of sight to would be thieves.and preventing machinery or livestock damaging them or being damaged.

Simply cut out your section of turf, Place the putange in the tunnels, peg the traps down then recover with your section of turf.

They need pegging down to stop them moving around.

And a short period of weathering(two to three days) allows a slight patina to build up on the traps making them more stable.

They are perfect for runs of three or more tunnels.

And it's best to tie the triggers on, either with something like builders line or fishing line.

Or some guys have great success using cable ties.

Feel free to email me for further advice or technical questions.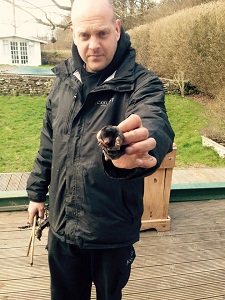 zoom